News
Ash dieback update
11th September 2023
Every June and July, Ranger Dan completes a full survey of all ash trees on the Commons, to monitor and then plan the management of trees affected by ash dieback. Last year, you will recall that a significant number of trees on Rusthall Common were identified as having been affected and had to be cut down. Unfortunately the spread of the disease has shown no sign of slowing and yet again we are faced with a large number of infected trees that need to be felled to ensure the safety of our community. We have said it before and we will say it again…we would never cut down trees unnecessarily. We have consulted with third party experts and Tunbridge Wells Borough Council's tree officer and everyone agrees that this is a necessary course of action.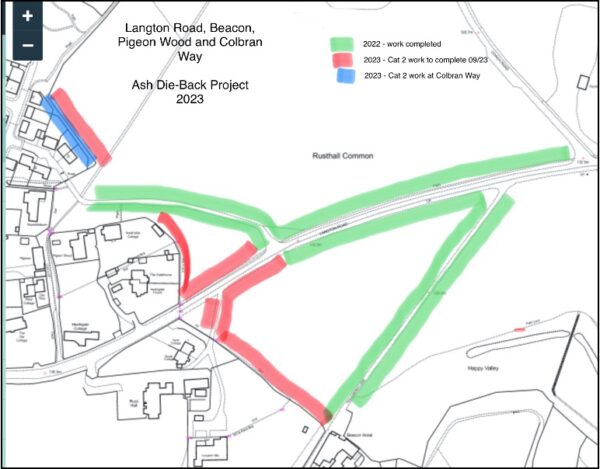 On 2nd October, we will commence a large felling project along the back of Colbran Way, Pidgeon Wood easement, near the Beacon and Langton Road (marked red on the map), where unsafe trees will be removed, stacked temporarily and then loaded onto a lorry to be transported to a biomass facility.
Any questions please use the contact function to get in touch.
Sad news about our beautiful red oak
6th June 2023
Unfortunately, after extensive surveys and following independent specialist advice, we are having to make the sad decision to remove the Red Oak at the junction of London Road and Church Road. The tree has a specific fungi which is rotting it from within and this means that the tree could present an unacceptable risk to public safety in its location by the traffic lights.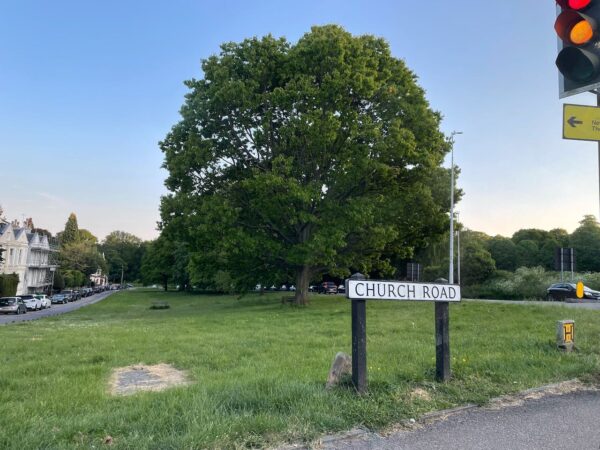 Looking at the tree in May this year it also tells us that it is under some stress and its canopy of leaves is lower than would be expected. These are all signs that the tree is no longer healthy. Tunbridge Wells Borough Council's Tree Officer has also been consulted and is supportive of the concerns. The work to remove the tree will take place within the next couple of weeks.
We are very sorry to have had to make this difficult decision and hope that everyone will understand that we really do not have any other choice. We will be dismantling the bench underneath the tree to protect it and will then reassemble it. We are looking at options regarding what kind of stump to leave and what we might be able to do in order to in fact make it a feature in its own right.
Welcoming a new wildflower bank
15th May 2023
We have decided to stop mowing the bank at the junction of Mount Ephraim and London Road on Tunbridge Wells Common, to see whether we can create a wildflower bank. Many important pollinator species are really struggling due there being fewer places available for them to look for the food that they need through the Spring and Summer and Autumn. The steepness of this bank and its position towards the sun make it an absolutely perfect habitat for wildflowers to thrive. We are therefore letting the flowers grow in order to help our pollinators as much as we possibly can.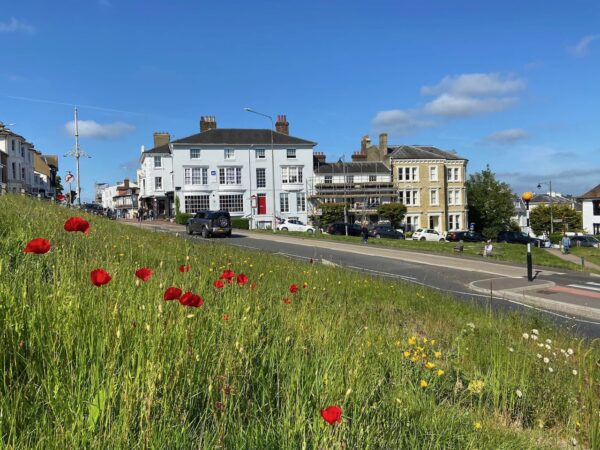 We also happen to think that its always possible to manage wilder areas so that they can look beautiful for humans too! By letting the flowers grow we not only get to witness their colours, shapes and smells; but we also get to enjoy all of the butterflies, bees and other insects that will visit the bank too. Even more excitingly, the increase in insects will mean that there will also be an  increase in birds as they in turn come to feed on them.
We are managing the bank with the help of volunteers and will be publishing photographs to show how the wildlife responds, and hopefully thrives, throughout the year. We'd like to encourage you to download the iNaturalist app to help record any wildlife spots that you make on the Commons to help build up a picture of which species call the Commons their home.