Finds on Display
20th March 2023
The West Kent Community Diggers (WKCD) continue to work tirelessly to expand their archaeological survey on Rusthall Common. We know that the community loves to hear their news and now you can see their finds,  thanks to a new display cabinet in Rusthall Library, co-funded by The Friends Of The Commons and The Rusthall Local History Group. With lots of treasures on display, WKCD invite local people to visit the library and see the evidence of people living in the area several thousand years ago.
Since work began on the Rusthall site, in 2018, a large collection of artefacts has been collected. These include dozens of examples of prehistoric stone tools in both locally produced orthoquartzite and imported flint implements. Though the majority are likely Neolithic and Bronze Age in date (4,500 BCE – 800 BCE) some examples may well be very much older. Other finds also include late Medieval and post Medieval pottery dating from the 15th  to 18th century, among other interesting items.
Nigel Stapple of WKCD was keen to provide a further update on their work, he explained that recent excavations have revealed more areas of stone cut features, which suggest a structural context to the stonework including probable timber elements to its design. Though dating remains somewhat elusive, at this stage, a 17th century quarry appears to be cut into the southern edge of the feature.  This would indicate that the stonework may well pre-date the 1600's.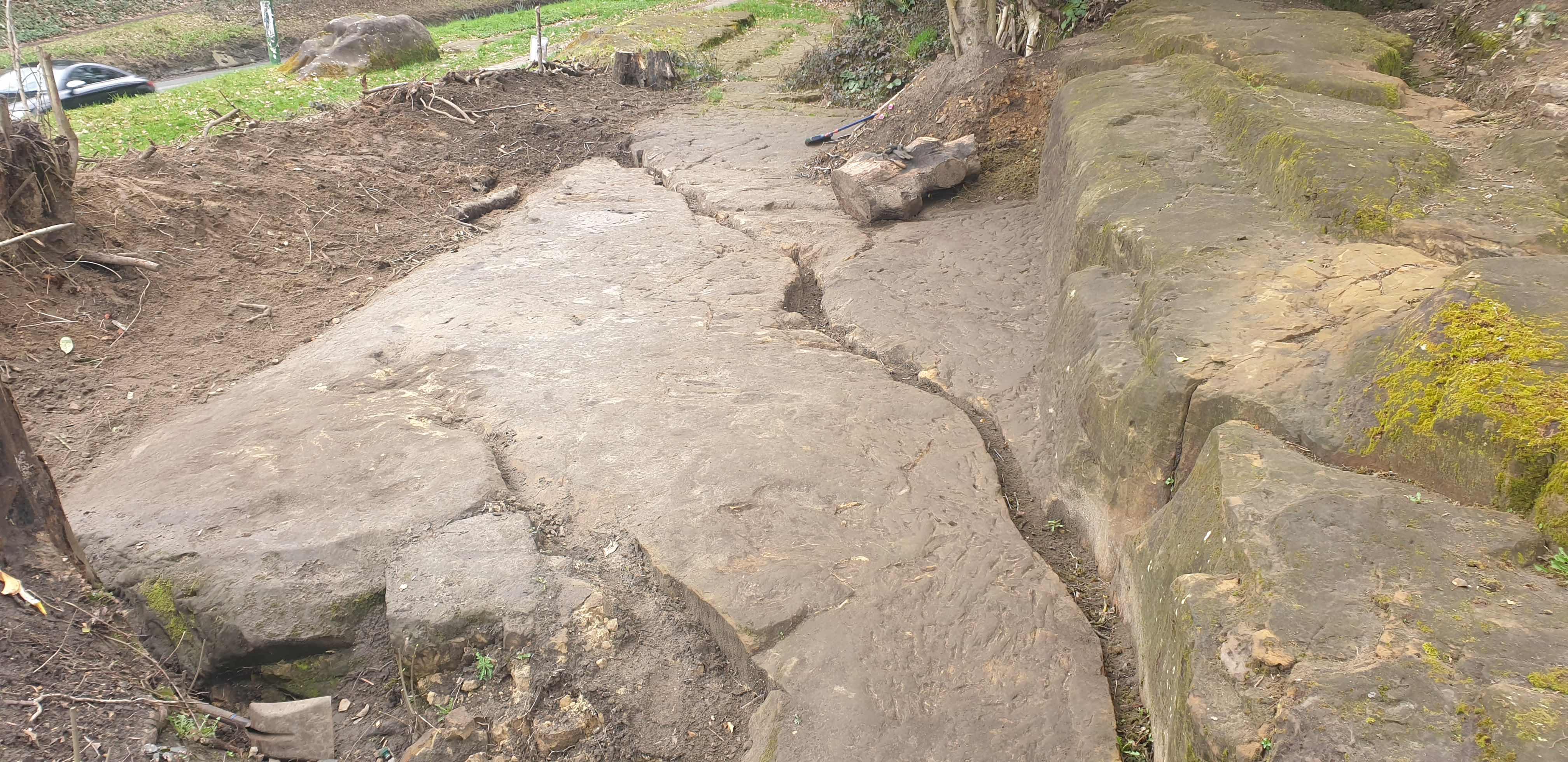 Current hypotheses consider the possibility of some form of religious site, possibly where a chapel once stood. Evidence of numerous spring sources have also been identified across the site as well as a former pool or pond. The origins of such would seem to be that of a prehistoric quarry where sporadic seams of 'orthoquartzite' were exploited and processed into useful stone tools. However, it's later function may well have been that of a 'Ritual Pool' of both Pagan and Christian religious activity.  The deliberate diversion and channelling of water has already been established with the presence of a stone cut culvert leading to the pool itself. Expert advice has already suggested that the feature appeared to be 'broadly medieval in cutting style'. Springs have often been associated with religious sites and hundreds of 'Holy Wells' or 'Pagan Springs' are recorded across the UK and Ireland. Whether it is indeed such a site is yet to be conclusively proven though at this stage it would seem a reasonable interpretation. 
As ever we thank The Commons Conservators for granting permission for our community archaeology volunteers to excavate and expose the exciting archaeology of Rusthall Common.